With overflowing passion for real estate and our community, the Regan + Ferguson Group brings excellence, experience, energy, intelligence, and integrity to every transaction. Our mission has always been to deliver a superior experience to our clients + something more.
This level of dedication to professionalism and unparalleled service has been recognized in the region, in the country—and just recently, internationally.
We are honored to be featured in the most recent issue of Top Agent Magazine!
Top Agent Magazine is the premier real estate magazine that features the leading real estate agents, mortgage professionals, and affiliates in the USA, Canada, Europe, New Zealand, and Australia. Only the highest producing and most accomplished professionals in the real estate industry, providing a blueprint for their success and an in-depth look at their careers snares the spotlight in this magazine.
Featured professionals here are known for their innovative strategies in marketing your home for sale, negotiation skills for home sales and purchase prices, and pairing home buyers with the perfect homes.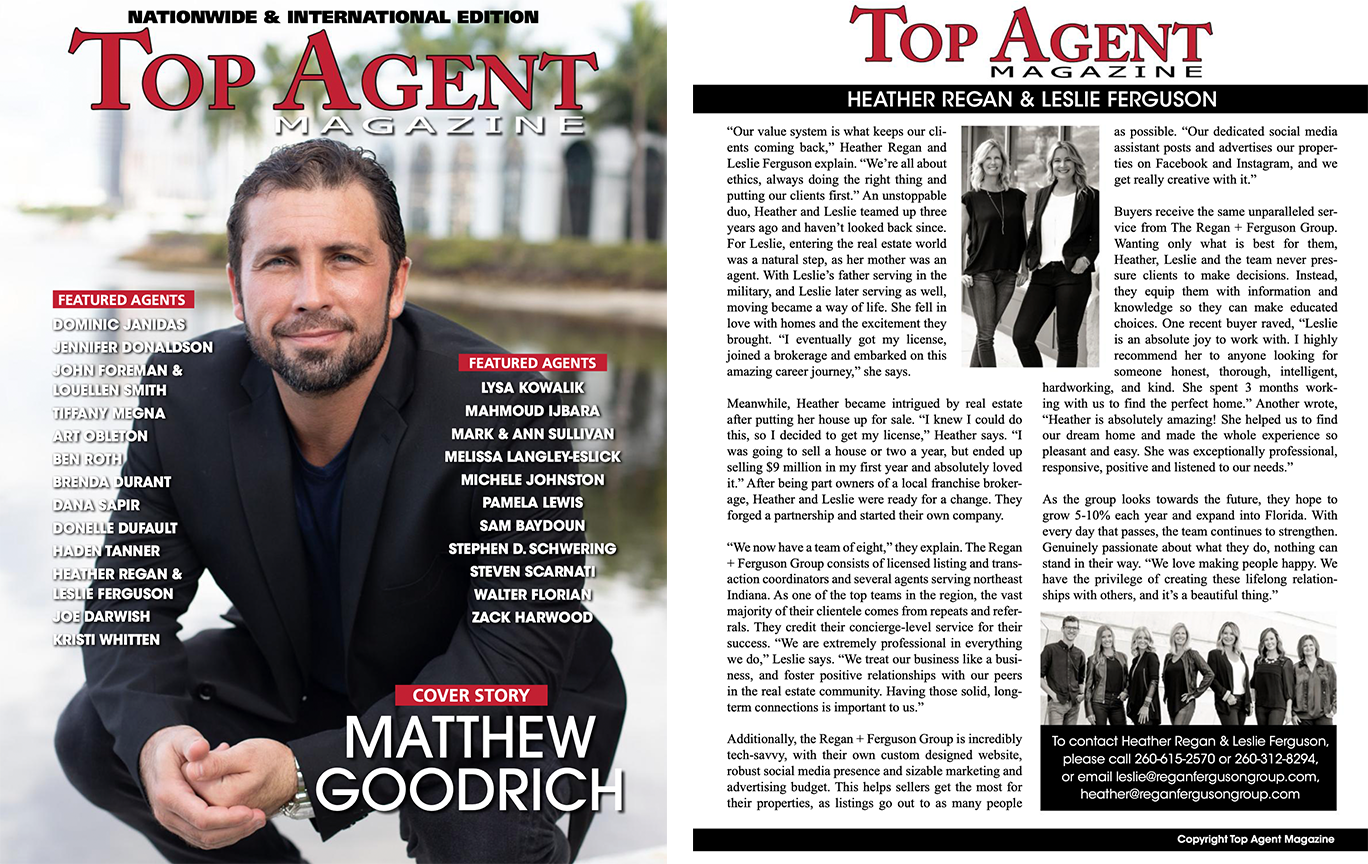 To be considered for a feature in Top Agent Magazine, all professionals go through a nomination and interview process. All candidates are then evaluated not only with their professionalism and production, but with their industry and community involvement. A nomination is considered as a great privilege as it speaks to a certain level of success that all real estate agents strive for. Top Agent has set itself apart as a trusted source of real estate inspiration and information.
We are grateful to be included among such a talented group of industry leaders! Heather Regan and Leslie Ferguson are stellar examples of prominent leaders in the industry, and this feature is a testament to that. Even better, this is only the beginning of more outstanding breakthroughs to come.
"Our value system is what keeps our clients coming back," Heather and Leslie explained. "We're all about ethics, always doing the right thing and putting our clients first."
Looking into the future, we are striving to grow 5-10% each year, and expand into Florida. "We love making people happy. We have the privilege of creating these lifelong relationships with others, and it's a beautiful thing."

We'll never fail you! Let's get started on your home selling/buying journey. Connect with us!